Essay On Youth Migration Moving Development Forward
Moogugul
/
In today's increasingly globalised and interconnected world in which more people migrate than ever before in human history, young migrants between 15 and 24 have become powerful agents of change and development.
By mid-2010, the total number of migrant youth was estimated at 27 million, representing an eighth of the 214 million international migrants in the world today.
Young migrants, either alone or accompanied by family members, leave their homes for different reasons. Some leave in search of jobs, others to flee persecution.
On International Youth Day 2013, under the theme 'Youth Migration: Moving Development Forward,' IOM highlights the importance of engaging, enabling and empowering youth to fulfil their development potential.
The infusion of young migrants represents a potential demographic gain that can be reaped by destination communities through human capital investments and strong integration policies; earlier investments generate higher returns.
Young people as they migrate under various circumstances, be it through regular or irregular channels face a number of challenges during the migration process.
Safe and regular migration must be promoted to reduce the risk of exploitation and abuse among youth migrants.
Female young migrants in particular experience high levels of sexual and gender-based violence at different phases of their migration.
To ensure that young people with migration backgrounds acquire skills for managing risks, exercising their creative talents, and becoming productive citizens, investments in their social development and physical wellbeing are essential.
It is also important to understand how migration improves or diminishes the life chance of these young people.
IOM together with UNFPA and other partners focused this year's International Youth Day on promoting dialogue on barriers that young migrants face in accessing health services, in particular reproductive health services.
Though the relationship between migration and health is well-documented, very little is understood about the consequences of international migration on the psychosocial, physical and economic wellbeing of young migrants.
Health is a fundamental human right and is critical for development and achievement of Millennium Development Goals (MDGs).
Access to health care services, including reproductive health and HIV prevention, is also key agenda of the MDGs.
"The right to health goes beyond the right to health care but also youth friendly health care service to mitigate stigma and long term social costs," says Dr. Erick Ventura, IOM South Africa Chief of Mission.
South Africa has made great strides in reducing the HIV incidence through its progressive policies and programmes, which includes implementation of youth-friendly services. Additionally, the National Strategic Plan (NSP) for HIV/AIDS/STI&TB recognises migration as one of the key structural drivers of the epidemic (i.e. the risk of HIV infection is higher amongst individuals who either have personal migration experience or have sexual partners who are migrants…) and migrants are included amongst the key populations at risk in the NSP (NDoH, 2012).
Although this is a huge achievement, there is still a need to look at migration from a governance perspective, to see how it can be mainstreamed penetrated into the overall response, including working with young people affected by migration.
IOM is implementing the Ripfumelo Project through financial support from U.S. President's Emergency Plan for AIDS Relief (PEPFAR) and USAID to provide technical assistance to the government of South Africa to address migration issues in the context of HIV and TB.
The Ripfumelo project has been implemented since 2009 in selected districts of Mpumalanga and Limpopo province, focusing initially in the commercial agricultural sector.
The second phase of the project started in April 2012 aiming at scaling up interventions to reduce HIV and TB vulnerability of migrants and host communities affected by migration in South Africa's Limpopo, Gauteng, KwaZulu-Natal and Mpumalanga provinces.
This year's international youth day provided a platform to explore through this project how the issue of youth migration can be put on the agenda.
The expanded project has scaled up HIV prevention and care interventions for different migrant populations, including labour migrants, mobile workers and irregular migrants, and the communities that they interact with.
"The Ripfumelo project is a strategic partnership with NGOs and government at all levels that facilitates access to health services and programmes, specifically HIV, STIs and TB prevention, care and support services.
"It addresses structural barriers to reduce vulnerability and generates strategic information for evidence-informed policy development and programming," says Dr Erick Ventura, IOM Migration Health Regional Coordinator and Chief of Mission in South Africa.
Over the initial three years of the project, USAID and PEPFAR have supported IOM to build extensive networks and collaboration with various stakeholders, including government, to ensure accessibility and availability of services and programmes to the hard-to-reach populations such as farm workers. 
About IOM
The International Organization for Migration (IOM) is a dynamic and growing inter-governmental organization, with 149 member states, committed to the principle that humane and orderly migration benefits migrants and society.
Established in 1951 and now active in over 440 field locations worldwide, IOM works with partners, government and civil society to:
• Assist in meeting the operational challenges of migration and mobility
• Advance understanding of migration issues
• Encourage social and economic development through migration; and
• Uphold the human dignity and well-being of migrants and mobile populations IOM in South Africa works in six areas
• Migration and Health
• Regulating Migration
• Movement and Resettlement
• Assisted Voluntary Returns
• Counter Trafficking
• Emergency and Humanitarian
E-mail: [email protected]
Telephone: +27 12 342 2789
Fax: +27 12 342 0932
Youth MigrationYoung peopleMigrants
2013 International Youth Day:
Youth Migration, Moving Development Forward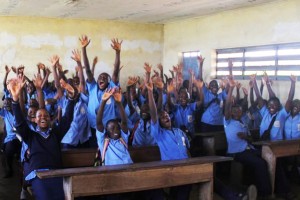 Join Green Cameroon and the world this year's 12 of August in the commemoration of International Youth Day 2013. Not only will we be encouraging young people across the world to celebrate the Day by focusing on the topic of youth migration but we will be using this Day as an opportunity to join the UN to launch the 2013 World Youth Report!
On 17 December 1999, in its resolution 54/120, the United Nations General Assembly endorsed the recommendation made by the World Conference of Ministers Responsible for Youth (Lisbon, 8-12 August 1998) that 12 August be declared International Youth Day.
The theme of International Youth Day 2013 is "Youth Migration: Moving Development Forward."Young people make up a significant share of the global number of international migrants. In 2010, there were an estimated 27 million international young migrants (UNO). While migration can often offer valuable opportunities and contribute to the development of communities and society at large, it can also pose risks and lead to unacceptable situations, including discrimination and exploitation.
The UN Secretary-General Ban Ki-moon stated that; "It is important to emphasize the positive contribution young migrants make to societies of origin, transit and destination – economically and by enriching the social and cultural fabric. Most work hard to earn a living and improve their circumstances. The remittances they send to support families in their home countries are a major contributor to economies worldwide."
This 2013, Green Cameroon holds that observance of International Youth Day will raise awareness of the opportunities and risks associated with youth migration, share knowledge and information stemming from recent research and analysis on this topic, and engage young people in discussions on their migration experiences.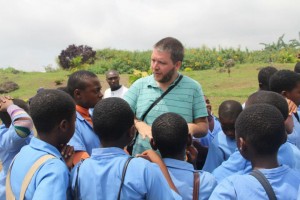 Youth are recognized as one of the most mobile social groups in the context of migration – they form about 30% of international migrants (UN) Yet very little is known about the livelihood struggles and opportunities that migration presents for young migrants and other youth who are affected by migration. We need to raise awareness about the situation of these young people as well as the role of youth-led organizations in addressing migration issues!
The ILO Global Trends in Youth Labor Migration report, which presents findings from research conducted in nine different countries and at the level of two regions on the motivations and experiences of young people who leave their home countries in search of employment and the policy implications from these trends, will also be launched on this day.
We also note with concern cases of human trafficking, which have largely affected the youth especially children and young women. We urge the youth to be weary of opportunities advertised by strangers or un-registered agencies. We call upon the government to expedite the  negotiation of bilateral agreements with sending and destination countries spelling out shared responsibilities and obligations with regards to migration in order to ensure the protection of the rights of migrant workers including right to equal treatment, equality of opportunity and non –discrimination. We also urge the government to adopt and enforce international standards on migration
To commemorate this Day, you as individuals are encouraged to organize events or activities in your communities. Below, are some ideas about what you can do in your community and how you can effectively spread the message:
–          Educational radio or TV shows Contact popular local/national radio or TV stations to request a slot to have a discussion with distinguished individuals and youth migrants.
–          Organize a public meeting or debate to discuss the risks and benefits of youth migration and the innovative ways youth can tackle the challenges of migration at the in local, national, and international level.
–          Organize a Hangout to bring together young people and relevant stakeholders from all over the world to discuss experiences of youth migration.Initiate round table discussions among adults and young people to promote intergenerational understanding and partnerships on the issue of youth migration.
–          Organize a youth forum to exchange ideas and discuss the social, economic and cultural backgrounds of migrants in order to help young people accept others and popularize a culture of non-violence and tolerance.
–          Organize a concert on youth migration and development to promote International Youth Day. Invite your local musicians and combine it with a panel discussion or invite a politician or policy maker to hold the key note speech.
–          Create an "info point" about youth migration-related issues in the center of town/village, at high schools, or at university centers.
–          Organize and exhibitions; get permission to use a public space for an arts exhibit, which showcases the challenges of young migrants today or how young migrants including returnees are contributing to development at home and abroad.  Try to involve young people in the domains of culture, arts and music; to raise awareness on youth migration related issues.
–          Write to your minister of youth to inform him or her about the challenges young migrants, potential youth migrants and other youth face in their daily lives and to suggest solutions.
Join Green Cameroon to make an impact!
Happy International Youth Day